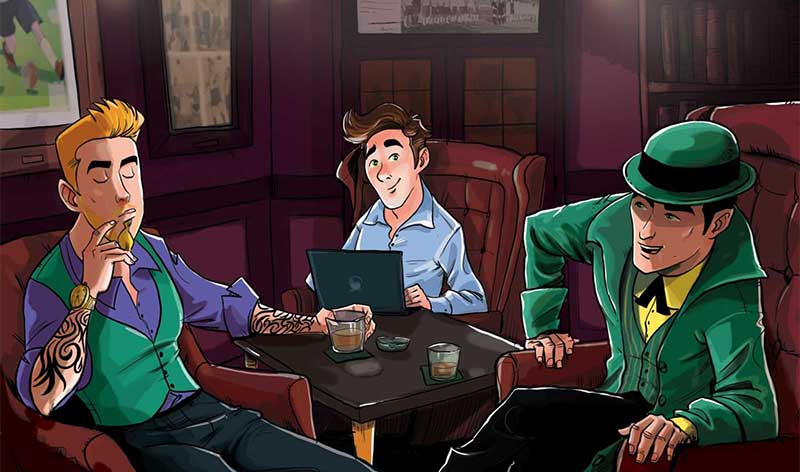 Betting on football is something that takes place at sportsbooks, and a variety of these can be found online. Essentially, if you're a football bettor, then you can often bet on various markets, although one of the most popular is to bet on which team you believe will win a match. If this sounds like something that would be of interest to you, then you'll need to open an account at an online bookmaker's site.
So that you're able to join a trustworthy and reliable online sportsbook, we recommend that you visit and join one of the sites that we suggest. These have been thoroughly reviewed, so as to ensure that they have the best security features, provide fair betting and odds, and allow you to engage in betting on multiple markets. We've also got some tips that you can use when it comes to actively participating in football sports betting. So, why not check through these and see if you can heighten your own betting experience?
How to Choose the Right Sportsbook
It's true to say that there are many online sportsbooks available for you to access out there. However, it's imperative that you find a site that is trustworthy and reputable. How do you locate such a sportsbook, though? Well, there are certain procedures that we put sportsbooks through when we're reviewing them. These procedures include looking for certain features at the sites. So, you can also seek out these features if you're trying to find a new online bookmaker's site to sign up to.
So, what process should you undertake in order to seek out the right sportsbook for you? Well, we recommend that you look for the following at these platforms:
• A site with great, competitive odds and prices
• A platform with a large range of sports and events for betting on
• The inclusion of high-quality security and data encryption features
• An official gambling licence affording you a trustworthy betting experience
• An easy-to-use website with a top-quality design
• A variety of supported payment methods
• A speedy withdrawal process
• Friendly and dedicated customer support agents on hand
• A mobile compatible platform for betting from any location
Properly Managing Your Bankroll
Whatever the case may be, you need to be able to manage your bankroll effectively enough so that you don't spend and lose your money in an instant. This is why it's necessary to ensure that you don't go about placing huge bets on events that you're not informed of in any way. It's all good to take risks every now and then, but only if you can afford to do so with your funds.
The proper management of your bankroll is something that all sports bettors should be in the know about. If you start out and continue by placing smaller bets on the more familiar events, then you will be able to learn as you proceed and not suffer devastating losses as a beginner in the process. Keep the size of your bets consistent, too. Pick a unit size that is somewhere between 1% and 5% of your overall bankroll and stick with it throughout your gambling activity.
Which Staking Method to Choose?
So, as a new sports bettor, what staking method should you use? As it happens, you should incorporate one of these into your betting strategy, and while this won't ensure that you are a regular winner all the time, it will reward you often enough. So, what are the staking methods that you can learn about and use?
• Fixed Bet Amount.
By using this system, you simply bet the same amount each time that you wager, regardless of the types of odds on offer. At the very least, this can prevent you from doubling down to try and turn around a loss that you may have experienced. Of course, you need to have a good level of discipline for this.

• Fixed Win Amount.
You'll need to take the odds into account when using this method, and try to win the same amount on it, regardless of which event or sport you're betting on. The problem with this method is that your bankroll can take quite the beating if you're betting large amounts on short-priced favourites and your luck takes a downfall.

• Kelly Criterion.
This is quite a risky method to utilise, but it can be profitable if used correctly. This tells you what fraction of your bankroll you should invest on any given wager. It can be a complicated method to make use of, and maybe too much of a complication for an average bettor.

• Proportional Betting.
Bankroll management is the easiest to keep control of with proportional betting. It keeps you in the game for longer, in general. Through it, you bet a fixed percentage of your bankroll, usually around a 5% portion. So, let's say that you have a $1,000 balance, you would wager $50. Losing that bet would reduce your balance to $950, so on the next bet, you'd wager $47.50 etc.

How Much to Bet
If you have chosen a specific staking method to use, then you will likely be able to figure out an amount of your bankroll to bet on an event. However, if you're not intending to use one of these, you should really make it your goal to start out small. As noted earlier, we recommend that you don't bet more than 5% of your bankroll each time. In fact, as a newcomer, it is generally suggested that you stick to something like 1%-2%, or 3% if you're feeling like more of a competitive bettor.
Identify Your Strengths and Weaknesses
All sports bettors have strengths and weaknesses. Therefore, it's key to identify where yours exist. You can then take full advantage of the strengths in your repertoire and avoid having to deal with the weaknesses on as frequent a basis. You should also keep in mind that while you may have a strength at betting on how many goals are scored for example, you may not have that same strength when betting on the outright winner. Plus, if you're good at managing your bankroll with a certain football strategy, you shouldn't expect to manage it as successfully if you decide to change this. That's why it's key to identify your strengths and weaknesses, and in the process, learn from both of them.