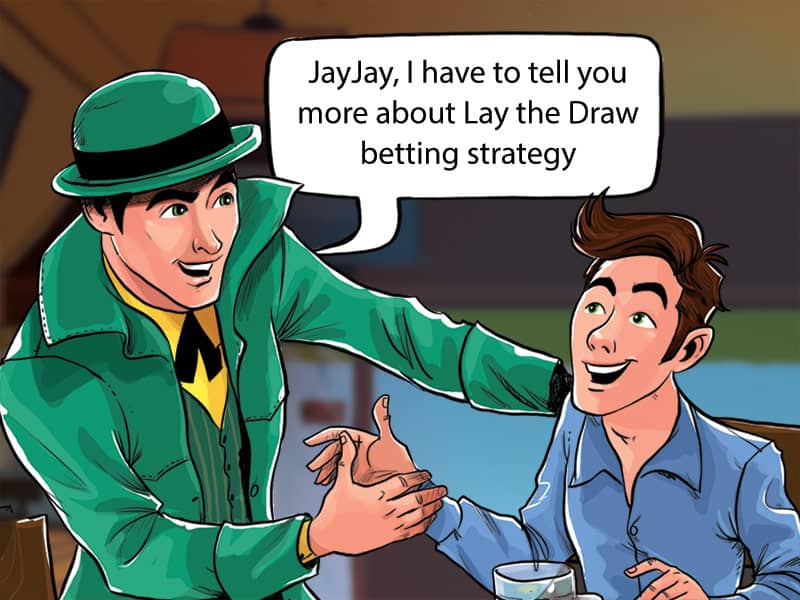 When it comes to sports betting, there are some intriguing strategies that you can incorporate in order to try and benefit yourself when gambling. One of these strategies to take is the Lay the Draw route, which has been popular since the start of the new millennium. So, what exactly does it mean to Lay the Draw and which games would it be more beneficial to use this particular strategy on? That's what we'll take a look at here.
So, what is Lay the Draw? Well, this requires the utilisation of a betting exchange, rather than a standard bookmaker site. It's also necessary for you to understand what it means to place a 'lay' bet if you want to make use of this strategy.
What Does Lay the Draw Mean?
To put things simply and blatantly, a lay bet is one that you essentially play the role of the bookmaker in. Through it, you're offering to take someone's bet at specific odds that you yourself have chosen. So, in this circumstance, your winnings will be the stake of whoever takes your bet essentially. Meanwhile, how much you can lose is the stake multiplied by the odds.
To proceed with laying the draw, you need to place a lay bet on the draw. Once the favourite scores a goal, the draw price rises, and you are able to close out your trade for profit. Should the match end in a draw, then your trade loses.
Essentially, you're looking to place a bet on matches that are not likely to end in a draw, and this is what laying the draw means. So, if there is a finish of anything but a draw, you receive the winning pay-out. This operates as quite the easy system to start out with if you've never made sports wagers before. It's simple to understand, but you need to understand that you're trading on an exchange rather than betting at a sportsbook.
Placing a Lay the Draw Bet
So, let's say that you're interested in placing a lay the draw bet. You see that there's a game that will take place between Manchester United playing at their home ground against Arsenal. It's your thought that it will finish in a home win for United, and when you log in to your favoured bookie's site, you see plenty of options that are available to back a home win. These include backing Man U to 'win to nil' or potentially back the team to win by more than one goal.
Yet, you really need the team to perform well, otherwise your bet isn't going to be a successful one. This is where you need to make use of an exchange instead. The Match Odds market will give you the same options for backing the home win, and the away win and draw as well. However, you'll also be able to lay any of those options at an exchange, too.
You could still back Manchester United in the same way as you can at an online sportsbook, although you're still relying heavily on them to perform well in this case.
You could place a lay bet on Arsenal so that as soon as the match begins, you're already in a winning position, although an away win would prove to be quite an expensive loss in this case. That's why laying the draw is a much more simple and effective option to select. As long as one of the teams obtains a positive result in the game, you remain in the profit. So, even in this case, if you see that a Man U player is shown the red card and sent off for example, resulting in Arsenal winning, your lay bet still grants a pay-out to you.
Of course, in this situation, if a 0-0 or 1-1 or any other draw result be the final score, this will always result in you being on the losing end. Of course, you can also participate in in-play trading, which means that you may be able to curb the flow in order to bank a profit at some point.
An Example of Laying the Draw
Let's keep on with the example of a Manchester United against Arsenal match. Let's say that the home side scored a goal in the first half of the game, causing market prices to change as a result of this. The favourites would therefore be 1-0 up and even closer to winning the game by the 90-minute mark as opposed to when the score was 0-0. The home win price would have fallen, and the away win price improve in this circumstance.
If you apply that same logic to the draw, this was also less likely to happen than it was when the score was 0-0, so that price rose up as well. That movement of the price means that it would be possible to lock in a profit easily.
Let's say that you had layed the draw at the kick-off minute. This had odds of 4.80 and you opted to place a £100 stake on it. You could then back the draw at the higher price for less of a stake and the difference would be your profit. So, if you use a Hedging Calculator, let's say that a back stake of £61.54 results in a £36.54 profit. That means you'll receive the same profit amount on each and every outcome of the game, be it a home win, away win or a draw. You can then let the rest of the match play out as normal, while safe in the knowledge that your profit is secured once the game comes to an end.
Choosing the Right Games
As you become a bit more experienced with laying the draw, you will begin to figure out which football matches are the best for utilising this type of wager on. Generally speaking though, you need to seek out the matches with the best liquidity. This means that there is a lot of money that is moving through the market. There's also less likelihood of your bet not being taken in this case. The Betfair exchange for example, is generally quite good when it comes to great levels of liquidity.
So, keep an eye out for those matches which are likely to be high-scoring events. Laying the draw obviously relies on one team scoring, so seek out a game where both teams participating usually favour a heavy attacking strategy during gameplay. Many people select a game where one of the teams is heavily favoured, especially if it is a game against a league underdog. And if that team is playing at home, even more so.
On the whole though, you want to look out for the games with closely matched teams, where both are likely to score a lot of goals. As soon as one of these teams scores, the odds for a draw will increase.